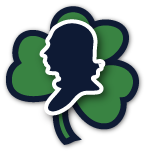 The Federalist Society for Law and Public Policy Studies (known colloquially as the Federalist Society) is a group of Libertarians, Moderates, and Conservatives interested in the current state of the legal order. It is founded on the principles that the state exists to preserve freedom, that the separation of governmental powers is central to our Constitution, and that it is emphatically the province and duty of the judiciary to say what the law is, not what it should be.
The Notre Dame Chapter
With over 100 members, the Notre Dame Law School Federalist Society is one of the nation's largest and most active. The NDLS Federalist Society contributes to thoughtful dialogue at the law school by providing a needed Libertarian, Moderate, and Conservative voice on campus, and by sponsoring speeches and debates on a range of legal and policy issues. Past speakers have include Justice Clarence Thomas, Ambassador John Bolton, Fifth Circuit Judge Edith Jones, Professor Richard Epstein, and New York Times Columnist Ross Douthat.
The National Organization
In April 1982, a small group of law students from Harvard, Stanford, Chicago, and Yale organized a symposium on federalism at Yale Law School. These students were unhappy with the academic climate on campus. They wanted to create a forum for a wider range of legal viewpoints than their law school classrooms were providing. At the time of the first symposium, there were fledging chapters at these four universities only. Inspired by the success of the initial program, other law school chapters soon formed across the country, and the Federalist Society incorporated in August 1982. To answer the obvious need at the next level of the legal community, the Society subsequently developed a Lawyers Division that successfully took root in every major legal center.
In the decades after that first symposium, the Society grew to include chapters at every accredited law school in America, and is now a major force in legal education. Today, the Federalist Society consists of 40,000 members, Lawyers Division chapters in nearly 70 cities, and 15 Practice Groups covering various specialized areas of the law. Chapters and practice groups are run autonomously by their members, in coordination with the national office.
Browse the Federalist Society Lectures Collections:
Federalist Society Speaker Photos