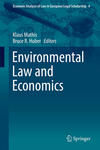 Environmental Law and Economics
Series: Economic Analysis of Law in European Legal Scholarship 4
Description
This anthology discusses important issues surrounding environmental law and economics and provides an in-depth analysis of its use in legislation, regulation and legal adjudication from a neoclassical and behavioral law and economics perspective.
Contents
Part I underlines the foundations of environmental law and economics.
Part II analyses the effectiveness of economic instruments and regulations in environmental law.
Part III is dedicated to the problems of climate change.
Part IV focuses on tort and criminal law.
The twenty-one chapters in this volume deliver insights into the multifaceted debate surrounding the use of economic instruments in environmental regulation in Europe.
This paper has been withdrawn.