Preview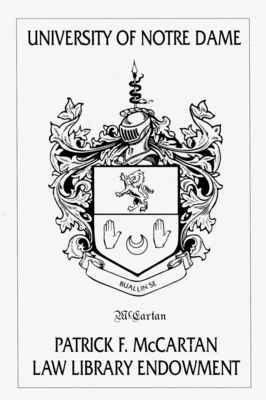 Description
The Patrick F. McCartan
Law Library Endowment
Patrick F. McCartan, managing partner of the law firm Jones, Day, Reavis and Pogue and the chairman of the Board of Trustees of the University, and his wife, Lois, have established the Patrick F. McCartan Jr. Law Library Endowment to enhance the resources at the Kresge Law Library. Pat received his bachelor's degree from the University in 1956 and graduated from the Notre Dame Law School in 1959. He subsequently served as law clerk to U.S. Supreme Court Justice Charles Evans Whittaker. Elected to the University's Board of Trustees in 1989 after serving for 10 years on the Notre Dame Law School Advisory Council, he is past chair of the Order of St. Thomas More, an organization comprised of alumni and other benefactors who contribute annually to the Notre Dame Law School. A Fellow of the University, he received an honorary degree from Notre Dame in 1999.
Cited in surveys by The National Law Journal as one of the country's most respected and influential lawyers, he has also been featured in The Wall Street Journal, The American Lawyer, and The Best Lawyers in America. He is a fellow of the American College of Trial Lawyers and the International Academy of Trial Lawyers, as well as an honorary overseas member of the English Commercial Bar. Active in a variety of civic and professional roles, in 1994 he received the Archbishop Edward F. Hoban Award for Distinguished Service to the Diocese of Cleveland, and the Torch of Liberty Award from the AntiDefamation League in 1998.
He and Lois, who reside in Ohio, have two children.
The Patrick F. McCartan Jr. Law Library Endowment provides the Kresge Law Library with the flexibility to respond to emerging legal information needs. Whether the need is for new online resources, important historical materials on microfiche, or additional books and journals, the educational advancement of law students and the research needs of law faculty are supported generously by the McCartan Endowment.