Preview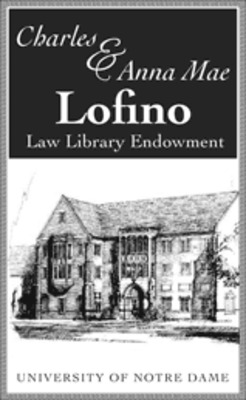 Description
The Charles and Anna Mae Lofino
Law Library Endowment
The Charles and Anna Mae Lofino Law Library Endowment was established in 2007 by Michael and Christine Lofino of Beavercreek, Ohio, in honor of Michael's parents. Michael is the chief executive officer of Lofino Food Stores, Inc., a retail grocery chain of 19 stores in Colorado and Ohio. He also serves as a director of the Lofino Realty Corporation, a property development and management firm in Colorado, Florida, and Ohio.
Michael and Christine are graduates of Miami University of Ohio and are active members of community boards in the Dayton, Ohio, and Sarasota, Florida, areas. Christine serves as a trustee of the Miami Valley School, an independent school in Dayton, where the Lofino family has endowed scholarships for more than 100 students. Michael was a founding member of the Rotary Club in Beavercreek, and continues to lead initiatives that fund a multitude of charitable institutions in Dayton and Sarasota.
Charles Lofino has had a rewarding career in retail groceries, real estate development, and banking in Ohio and Florida. Under his leadership, the Lofino family has funded the Lofino Family Complex of the Sarasota YMCA, the Beavercreek YMCA, the Miami Valley School Athletic Center, the Dominick Lofino Community Park, and the Senior Center of Beavercreek, Ohio.
As in all other legal areas, real estate law is becoming more complex and is producing a growing body of literature. Legal scholars will be able to turn to the law library as a great resource for the study of real estate law because of the Lofino Endowment.
The Lofinos also support two additional Named endowments.