Preview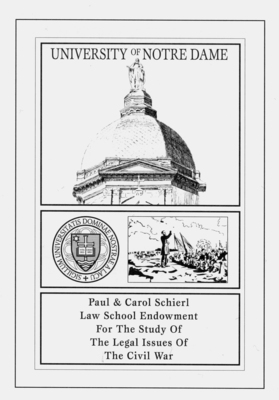 Description
The Paul and Carol Schierl
Law School Endowment for the Study of the Legal Issues of the Civil War
Paul J. Schierl holds a 1957 bachelor's degree and a 1961 law degree from the University of Notre Dame. Joining the Fort Howard Corporation in 1964 as general counsel and serving as its leader since 1974, Paul led the management group that, with the Morgan Stanley Group, Inc., took the company private in 1988. Paul retired in 1990 and currently serves as president of the Cornerstone Foundation of Northeastern Wisconsin, Inc.
Paul has been a member of the Notre Dame Law School Advisory Council since 1981, and is also a member of the advisory councils for the Salvation Army, Wisconsin Policy Research,WFIC, and the Green Bay Packers. He is co-founder and past president of the Greater Green Bay Community Foundation and a former member of the Saint Mary's College Board of Trustees. He and his wife, Carol, reside in DePere, Wisconsin. He has five children, all of whom are Notre Dame or Saint Mary's graduates.
The Civil War was a defining moment in American history. The social and economic sources that conflict, the military history of the struggle for union, and the reconstruction era are each represented by a massive body of historical literature. Less massive, but no less important, is the corpus of legal literature that relates to this period. The Paul & Carol Schierl Law School Endowment for the Study of the Legal Issues of the Civil War will enable the Law Library, over time, to build a truly unique collection. In due course, the Schierl Endowment will support and attract scholarship about the law, lawyers, and legal systems that influenced this tumultuous era.
Keywords
schierl, civil war
COinS