Preview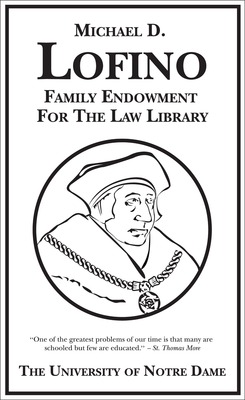 Description
The Michael D. Lofino Family Endowment for the Law Library was established by Michael and Christine Lofino of Beavercreek, Ohio. Michael is the CEO of Lofino Food Stores, Inc., a retail grocery chain of 19 stores in Colorado and Ohio. He also serves as a director of the Lofino Realty Corporation, a developer of properties and a property management firm in Colorado, Florida and Ohio.
Michael and Christine are graduates of Miami University of Ohio and are active members of community boards in the Dayton and Sarasota areas. It is their belief that a community is sustained through the work and gifts of people who care. Christine serves as a trustee of the Miami Valley School, an independent school in Dayton, where the Lofino family has endowed scholarships for more than 100 students. Michael was a founding member of the Rotary Club in Beavercreek, Ohio, and continues to lead initiatives that fund a multitude of charitable institutions in the Dayton and Sarasota communities.
Together and with their family, Michael and Christine have funded the Lofino Family Complex of the Sarasota YMCA, the Beavercreek YMCA, the Dominic Lofino Community Park, and the Senior Center of Beavercreek, Ohio. However, when asked about their greatest accomplishment, they state, without hesitation, their children: Michael D. Lofino, Jr. ('98 J.D., M.B.A.), and Michelle. Both earned bachelor of science degrees from Cornell University, in 1994 and 1996, respectively.
The Lofino Family Endowment enhances the Law Library by supporting the research needs of law students and faculty, enabling timely response to new research agendas and the growing demand for non-traditional sources.
Keywords
Lofino, Lofino Food Stores, Lofino Realty Corporation
COinS