Preview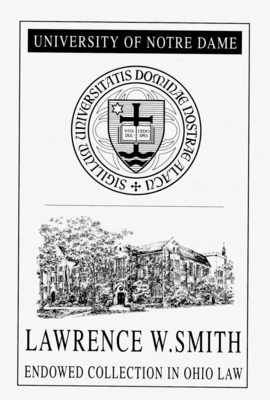 Description
The Lawrence W. Smith
Endowed Collection in Ohio Law
To help further the mission and resources of the Kresge Law Library, Lawrence W. Smith Jr., through a charitable remainder trust established the Lawrence W. Smith Endowed Collection in Ohio Law and the Lawrence W. Smith Endowed Collection in Legal Ethics.
An East Liverpool, Ohio, native and descendant of the city's founder, Thomas Fawcett, Lawrence W. Smith grew up working at the family-owned and operated Smith Hardware Store. He graduated from East Liverpool High School in 1931 and earned his bachelor's degree from the University of Notre Dame before returning home to teach in the local school system. In 1941, he received a law degree from Duquesne University and established a practice in East Liverpool, which was interrupted by service in World War II. Serving in the European Theatre of Operations, he received four bronze battle stars for action in Naples, Foddia, Rome and North Apennines. Following the war, he returned home and resumed his law practice.
He was a member of St. Aloysius Catholic Church, Carroll Council 509 Knights of Columbus, Elks Lodge 258, theVFW, the American Legion, and the East Liverpool Country Club. He served for many years as a director of the former Potters Bank and Trust, and was a member of the Leadership Gift Society of the East Liverpool High School Alumni Association. Professionally, he was a member of the Columbiana County Bar Association, the Ohio State Bar Association, and the American Bar Association. He was also involved with the Badin Guild, the Edward Fredrick Sorin Society, and the Order of St. Thomas More at the University of Notre Dame.
He and his wife Elizabeth had five children: Lawrence W. III, Cynthia, twin daughters Maureen and Isabel, and Elizabeth "Betsy," who passed away in 1973.
The Lawrence W. Smith Endowed Collection in Ohio Law supports an important body of state law for students and researchers. The cumulation of case law and statutory materials and the acquisition of new scholarly works analyzing Ohio law add significantly to the Kresge Law Library's comprehensive collection of American legal materials. The Smith Collection will ensure the ongoing quality of the Ohio law collection in perpetuity.