Preview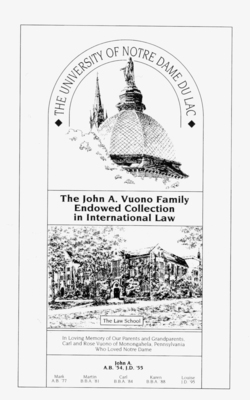 Description
The John A. Vuono Family
Endowed Collection in International Law
John A. Vuono, a senior partner in the law firm Vuono and Gray in Pittsburgh, Pennsylvania, has earned two degrees from the University: a bachelor of arts degree in 1954 and a juris doctorate in 1955. In 1956, he received a master of laws degree from the University of Pennsylvania. A member of the Allegheny County, Pennsylvania, and American Bar Associations, John has served on the Notre Dame Law School Advisory Council since 1993. He and his wife, Linda, live in Nevillewood, Pennsylvania. He has five children, all of whom have graduated from Notre Dame: Mark in 1977, Marty in 1981, Carl in 1984, Karen in 1988 and Louise, a 1992 Saint Mary's alumna and 1995 Law School graduate.
The John A. Vuono Family Endowed Collection in International Law is dedicated to John's parents, Carl and Rose Vuono of Monongahela, Pennsylvania.
Through the generosity of the John A. Vuono Family the quality of the Kresge Law Library's international legal materials collection is greatly enhanced. The Kresge Law Library is dedicated to acquiring a dynamic collection in international law to support the legal education needs of all law students who will work in an increasingly interconnected global environment. The Vuono Family Endowment plays an integral part in the Law School's development.
Keywords
vuono, international law
COinS