Preview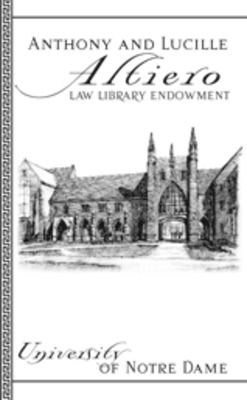 Description
The Anthony and Lucille Altiero
Law Library Endowment
The Anthony and Lucille Altiero Law Library Endowment was established in 2007 by Michael and Christine Lofino of Beavercreek, Ohio, in honor of Christine's parents. Michael is the chief executive officer of Lofino Food Stores, Inc., a retail grocery chain of 19 stores in Colorado and Ohio. He also serves as a director of the Lofino Realty Corporation, a property development and management firm in Colorado, Florida, and Ohio.
Michael and Christine are graduates of Miami University of Ohio and are active members of community boards in the Dayton, Ohio, and Sarasota, Florida, areas. Christine serves as a trustee of the Miami Valley School, an independent school in Dayton, where the Lofino family has endowed scholarships for more than 100 students. Michael was a founding member of the Rotary Club in Beavercreek, and continues to lead initiatives that fund a multitude of charitable institutions in Dayton and Sarasota.
Together and with their family, Michael and Christine have funded the Miami Valley School Athletic Center, the Beavercreek YMCA, the Dominick Lofino Community Park, and the Senior Center of Beavercreek, Ohio.
In their hometown of Niles, Ohio, Anthony and Lucille have been strong supporters of McKinley House, a replica of President William McKinley's childhood home. Additionally, Anthony served on many community boards, including the McKinley Library board for 31 years, the Niles school board for 20 years, and the parks board. He loved music and played the clarinet for 50 years in the Warren Packard Band.
With the support of the Altiero Endowment, the Law Library's resources relating to the complex legal issues surrounding music copyright will remain a vital part of the University's intellectual property law collection.
The Lofinos also support two additional Named endowments.