Preview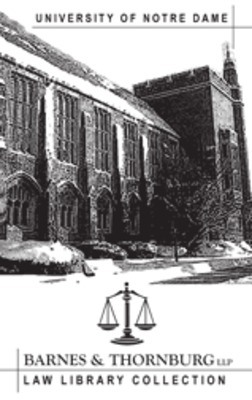 Description
The Barnes & Thornburg LLP
Law Library Collection
Committed to offering the attributes of a national law firm while preserving a Midwest-firm culture, Barnes & Thornburg LLP has expanded beyond its original cities of Indianapolis, South Bend, and Elkhart, Indiana, to include offices located in Fort Wayne, Indiana; Washington, D.C.; Chicago, Illinois; and Grand Rapids, Michigan.
In addition to being Indiana's largest law firm, Barnes & Thornburg is now one of the 100 largest law firms in the United States. The firm provides legal services to a diverse group of clients ranging from multinational corporations to individuals. Barnes & Thornburg has nearly 475 attorneys and other legal professionals who represent and counsel clients in virtually all the areas of concentration provided by large, full-service law firms.
The Barnes & Thornburg LLP Law Library Collection was established in 1996 by the firm and a number of its partners who are graduates of Notre Dame Law School. Stephen A. Seall ('66 JD), who was vice chair of the firm and the managing partner of its South Bend office from 1985 to 2001, played a key role in its development. He retired as a partner at the end of 2005 and is now a retired Of Counsel with the firm. Seall is a Fellow of the American College of Tax Counsel. While at Notre Dame, he served on the Notre Dame Law Review.
Responding to the needs of core patrons in the Law Library as well as practicing attorneys and scholars from other departments requires resources made possible by the Barnes & Thornburg Collection. The University's ability to provide the latest works in important emerging legal areas is greatly enhanced by this generous support.
Keywords
barnes and thornburg
COinS