Preview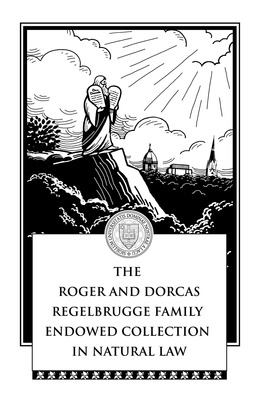 Description
Born in the Flemish part of Belgium, Roger Regelbrugge's family and education provided a strong foundation for an enduring devotion to his faith and to Our Lady. Inspired and motivated by the many blessings received through the intercession of the Virgin Mary, Roger and his wife Dorcas, have established the Roger and Dorcas Regelbrugge Family Endowed Collection in Natural Law.
Roger Regelbrugge received his bachelor of science degree from State Technical College, Ghent Belgium, in 1951. Upon graduation, he served as an officer in the Belgian Army. He eventually made his way to the United States where he attended the General Motors Institute in Flint, Michigan, earning yet another engineering degree before acquiring his master of science in mechanical engineering from Michigan State University. Roger, a manufacturing executive, spent much of his life serving as president and chief executive officer of GS Industries, a company specializing in the development of wire products for the construction, agriculture, and automobile industries. Although now retired, Roger remains active serving on the board at GS Industries, Belmont Abby College, the Charlotte Country Day School and the University of Notre Dame Engineering Advisory Council.
Dorcas, a graduate of Queens College in Charlotte, North Carolina, is active in their local church and charities. Of the nine Regelbrugge children, Anita Saurer is a Notre Dame graduate.
The Roger and Dorcas Regelbrugge Family Endowed Collection in Natural Law supports the study of legal theory with a long and honorable history in the Law School. As the home of the Natural Law Institute and The American Journal of Jurisprudence, and as a center for the study of law and religion, the Law School has always required significant library holdings in natural law. Through the generosity of the Regelbrugges, who established their collection to stimulate awareness and interest in the fundamental mission and destiny of mankind and the divine guidelines for success, this collection will ensure that these holdings will increase and that the study of natural law will continue to be integral to the Law School's work.
Keywords
Regelbrugge, natural law
COinS