Preview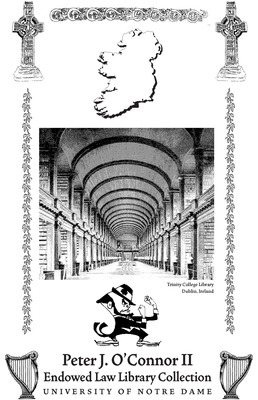 Description
Rex O'Connor, Sr. ('51 J.D.), and his wife, Mary Evelyn, established this collection in honor of their son, Peter, through a charitable remainder trust. Rex completed his undergraduate studies at Aquinas College in Grand Rapids, Michigan, before entering the Notre Dame Law School. Now semi-retired from the private practice of law, he has provided pro-bono legal organizations and clients in his community, local and beyond. He also serves as a director of Extruded Aluminum Corporation and director emeritus of Independent Bank Corporation. He and Mary Evelyn have three children: Peter, Rex Jr.,and Mary B.O'Connor ('96). They live in Ionia, Michigan.
At Notre Dame, the O'Connors are members of the Edward Frederick Sorin Society, the Stephen Theodore Badin Guild, and the Order of St. Thomas More.
In addition to this collection, they support the Rex Patrick and Mary Evelyn O'Connor Family Endowed Collection of Irish Law, the Rex P. O'Connor, Jr., Endowed Law Library Collection, and the Mary B. O'Connor Endowment in the Mendoza College of Business.
They are also active members of the Notre Dame Club of Grand Rapids. Peter J. O'Connor currently resides in Orleans, Michigan, and has been a loyal employee of Extruded Aluminum Corporation for nearly two decades. He finds joy in helping others, including neighbors and family. His love of Notre Dame was inherited from his father and enhanced when he attended sports camp at the University as a child. Peter also has a great affection for Ireland, especially the country's Catholic heritage, which is evident in the images he chose for his plaque.