Preview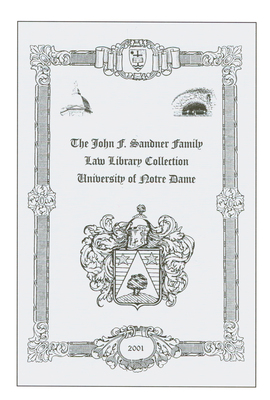 Description
Although retired from the position as chair of the Chicago Mercantile Exchange (CME) board of directors, John F. "Jack" Sandner, a 1968 Notre Dame Law School graduate and member of the University's Board of Trustees, remains active with the company, serving as special policy advisor to the board of directors. Under his leadership, the CME embarked on numerous and ambitious new initiatives to trade products from around the globe, and the CME became the global financial services industry pacesetter for the 1980s and 1990s. In 1995, U.S. Treasury Secretary Robert E. Rubin appointed Jack to the U.S. Advisory Commission on Financial Services.
Jack is currently chair, president and chief executive officer of RB&H, L.P., a futures commission merchant and clearing member firm of the CME. He serves on numerous boards, including those of Rush-Presbyterian-St. Luke's Medical Center, The Economic Club of Chicago, the Lyric Opera of Chicago, the Museum of Science and Industry in Chicago, and Click Commerce, Inc.
In 1998, the CME named its endowed chair at Northwestern University's J.L. Kellogg Graduate School of Management "The Chicago Mercantile Exchange John F. Sandner Chair in Futures and Options Studies". Jack and his wife, Carole, a registered nurse, have seven children.
The single largest purchase of materials in the history of the Kresge Law Library was made possible because of the John F. Sandner Family Law Library Collection. When the Chicago Bar Association (CBA) made its entire collection available for sale, the Kresge Library was able to move quickly to take advantage of the offer because of this generous benefaction. The CBA collection vastly increased the library's holdings of periodicals and primary state materials, and filled large gaps in 19th and 20th century monographic holdings. The acquisition of this material has helped make the Kresge Law Library a true research facility.
Keywords
John Sandner, Chicago Bar Association
COinS