Title
Preview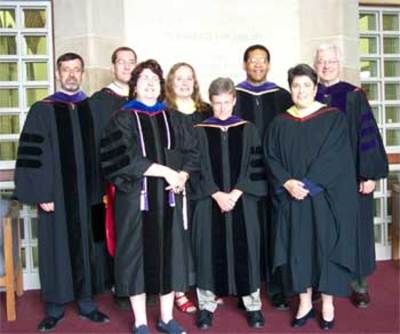 Description
Law Librarians, 2003 Commencement
Left to right, backrow: Warren D. Rees, Research Librarian; Joseph W. Thomas, Head of Technical Services; Sandra Klein, Acquisitions/Serials Librarian; Dwight B. King, Head of Research Services; Professor Roger F. Jacobs, Director of the Law Library.
Left to right, front row: Nancy Poehlmann, Cataloging Librarian; Patti J. Ogden, Research Librarian; Carmela Kinslow, Head of Access Services.
Not pictured: Laurel Cochrane, Human Rights Librarian
Location: North end of the Kresge Law Library's Main Reading Room.
Photographer: Susan Good, Web and Database Consultant
Keywords
Law librarians, Kresge Law Library, Notre Dame Law School, Roger F. Jacobs, Carmela Kinslow, Dwight B. King, Patti Ogden, Warren Rees, Joseph W. Thomas, Sandra Klein, Nancy Poehlmann
COinS