Preview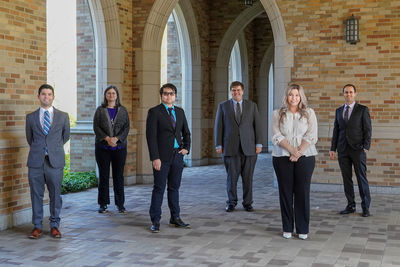 Description
Pictured left to right: Nicholas D'Andrea, Professor Jodi Clifford, Jerry Lu, Andrew Johnson, Lindsey Lewis and Garrett Potter.
One team, composed of first-year law students Nicholas D'Andrea, Lindsey Lewis, Jerry Lu, and Andrew Johnson, and coached by first-year student Garrett Potter and Professor Jodi Clifford, placed second in the Midwest region.
The other team, composed of second-year students Stephanie Rioux and Antonnette Laird, competed in the Eastern region.
Original Website:
https://law.nd.edu/news-events/news/nd-law-places-second-in-midwest-in-uspto-patent-application-drafting-competition/
Permalink: