Preview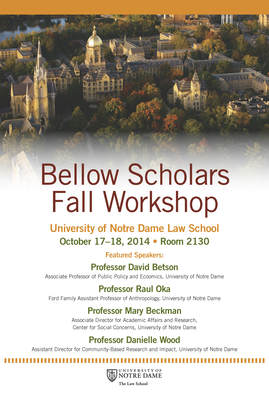 Description
The AALS Section on Clinical Legal Education's Committee on Lawyering in the Public Interest (a/k/a the BellowCommittee) will hold its 2014 Workshop at the Notre Dame Law School on Oct. 17-18. This workshop precedes the Committee's solicitation for proposals for selection of the 2015-16 Bellow Scholars.
The Workshop will highlight the work of past, current and future Bellow Scholars, with an emphasis on developing the work of future Bellow Scholars. Scholars from a variety of social sciences will be on hand to help discuss and develop project proposals.
The Workshop will include a session on Research Methods and Application and include discussion of basic research tools, methods of partnering with social scientists/economists, and a how to link empirical projects to clinic work. For those who arrive on Friday afternoon, a panel of former Bellow Scholars will present program explaining the nuts and bolts of doing research.
Topics to be covered include: what is an IRB; how to integrate your research into your clinic; how to translate research into real social change; and special ethical issues to consider.
Find out more about the workshop on NDLS website.