Preview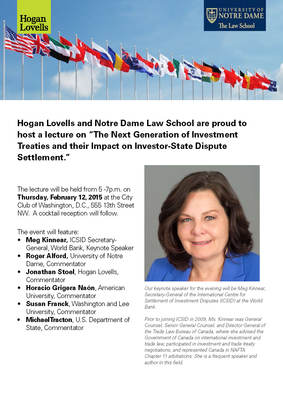 Description
Hogan Lovells and Notre Dame Law School are proud to host a lecture on "The Next Generation of Investment Treaties and their Impact on Investor-State Dispute Settlement."
The lecture will be held from 5 -7p.m. on Thursday, February 12, 2015 at the City Club of Washington, D.C., 555 13th Street NW. A cocktail reception will follow.
Our keynote speaker for the evening will be Meg Kinnear, Secretary-General of the International Centre for Settlement of Investment Disputes (ICSID) at the World Bank.
Prior to joining ICSID in 2009, Ms. Kinnear was General Counsel, Senior General Counsel, and Director General of the Trade Law Bureau of Canada, where she advised the Government of Canada on international investment and trade law, participated in investment and trade treaty negotiations, and represented Canada in NAFTA Chapter 11 arbitrations. She is a frequent speaker and author in this field.
The event will feature:
• Meg Kinnear, ICSID Secretary- General, World Bank, Keynote Speaker
• Roger Alford, University of Notre Dame, Commentator
• Jonathan Stoel, Hogan Lovells, Commentator
• Horacio Grigera Naón, American University, Commentator
• Susan Franck, Washington and Lee University, Commentator
• Michael Tracton, U.S. Department of State, Commentator