Preview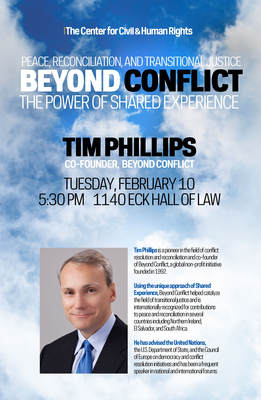 Description
TIM PHILLIPS
CO-FOUNDER, BEYOND CONFLICT
Peace, Reconciliation, and Transitional Justice
Tuesday, February, 10, 2015
Tim Phillips is a pioneer in the field of conflict resolution and reconciliation and co-founder of Beyond Conflict, a global non-profit initiative founded in 1992.

Using the unique approach of Shared Experience, Beyond Conflict helped catalyze the field of transitional justice and is internationally recognized for contributions to peace and reconciliation in several countries including Northern Ireland, El Salvador, and South Africa.

He has advised the United Nations, the U.S. Department of State, and the Council of Europe on democracy and conflict resolution initiatives and has been a frequent speaker in national and international forums.
The Center for Civil and Human Rights