Preview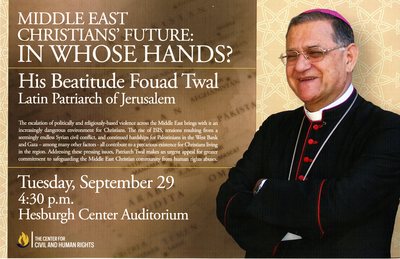 Description
Middle East Christians' Future: In Whose Hands?
His Beatitude Fouad Twal, Latin Patriarch of Jerusalem
The escalation of politically and religiously-based violence across the Middle East brings with it an increasingly dangerous environment for Christians. The rise of ISIS, tensions resulting from a seemingly endless Syrian civil conflict, and continued hardships for Palestinians in the West Bank and Gaza-among many other factors- all combine to a precarious existence for Christians living in the region. Addressing the pressing issues, Patriarch Twal makes an urgent appeal for greater commitment to safeguarding the Middle East Christian community for human rights abuses.
Tuesday, September 29
4:30 PM
Hesburgh Center Auditorium
The Center for Civil and Human Rights