Title
Preview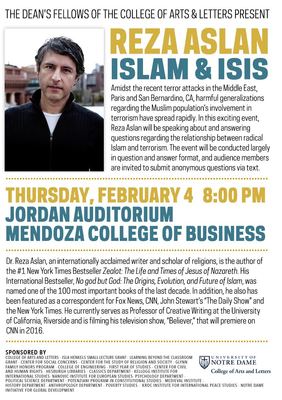 Description
THE DEAN'S FELLOWS OF THE COLLEGE OF ARTS & LETTERS PRESENT
Reza Aslan: Islam & ISIS
Amidst the recent terror attacks in the Middle East, Paris and San Bernardino, CA, harmful generalizations regarding the Muslim population's involvement in terrorism have spread rapidly. In this exciting event, Reza Asian will be speaking about and answering questions regarding the relationship between radical Islam and terrorism. The event will be conducted largely in question and answer format, and audience members are invited to submit anonymous questions via text.
THURSDAY, FEBRUARY 4 8:00 PM JORDAN AUDITORIUM MENDOZA COLLEGE OF BUSINESS
Dr. Reza Asian, an internationally acclaimed writer and scholar of religions, is the author of the #1 New York Times Bestseller Zealot: The Life and Times of Jesus of Nazareth. His International Bestseller, No god but God: The Origins, Evolution, and Future of Islam, was named one of the 100 most important books of the last decade. In addition, he also has been featured as a correspondent for Fox News, CNN, John Stewart's "The Daily Show" and the New York Times. He currently serves as Professor of Creative Writing at the University of California, Riverside and is filming his television show, "Believer," that will premiere on CNN in 2016 .