Preview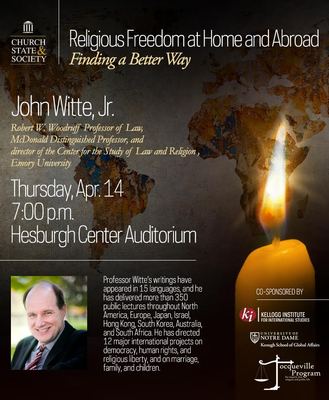 Description
Religious Freedom at Home and Abroad
Finding A Better Way
John Witte, Jr.
Robert W. Woodruff, Professor of Law,
Mcdonald Distinguished Professor, and director of the Center for the Study of Law and Religion, Emory University
Thursday, Apr. 14
7:00 p.m.
Hesburgh Center Auditorium
Professor Witte's writings have appeared in 15 languages and he has delivered more than 350 public lectures throughout North America, Europe, Japan, Israel, Hong Kong, South Korea, Australia, and South Africa. He has directed 12 major international projects on democracy, human rights, and religious liberty, and on marriage, family, and children.