Preview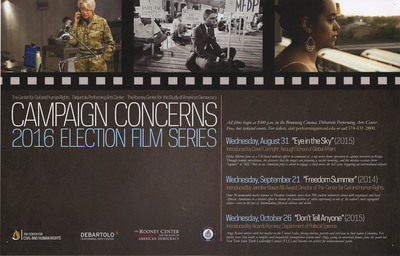 Description
The Center for Civil and Human Rights Debartolo Performing Arts Center The Rooney for the Study of American Democracy
Campaign Concerns
2016 Election Film Series
All Films begin at 8:00 p.m. in the Browning Cinema, Debartolo Performing Arts Center.
Free, but ticketed events. For tickets, visit performingarts.nd.edu or call 574-631-2800
Wednesday, August 31 "Eye in the Sky" (2015)
Introduced by David Cortirght, Keough School of Global Affairs
Helen Mirren stars as a UK-based military officer in command of a top-secret drone operation to capture terrorists in Kenya. Through remote surveillance, she discoveres that the targets are planning a suicide bombing, and the mission escalates from "capture" to "kill." But as an American pilot is about to engage, a child enters the kill zone, triggering an international dispute.
Wednesday, September 21 "Freedom Summer" (2014)
Introduced by Jennifer Mason McAward, Director of the Center for Civil and Human Rights
Over 10 memorable weeks known as Freedom Summer, more than 700 student volunteers joined with organizers and local African Americans in a historic effort to shatter the foundations of white supremacy in one of the nation's most segregated states- even in the face of intimidation, physical violence, and death.
Wednesday, October 26 " Don't Tell Anyone" (2015)
Introduced by Ricardo Ramirez, Department of Political Science
Angy Rivera arrives with her mother in the United States, fleeing violence, poverty, and civil war in their native Colombia. For twenty years they battle a complex and inequitable immigration system until Angy, facing an uncertain future, joins the youth-led New York State Youth Ledership (YLC) and becomes an activist for undocumented youth.