Preview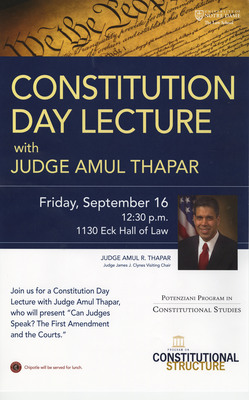 Description
Constitution Day Lecture with Judge Amul Thapar
Friday, September 16
12:30 p.m.
1130 Eck Hall of Law
Judge Amul R. Thapar
Judge James J. Clynes Visiting Chair
Join us for a Constitution Day Lecture with Judge Amul Thapar,
who will present "Can Judges Speak?" The First Amendment and the Courts."
Potenziani Program in Constitutional Studies
Program on Consitutional Structure
Chipotle will be served for lunch.