Preview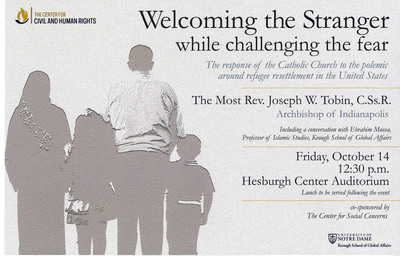 Description
Welcoming the Stranger While Challenging the Fear:
The response of the Catholic Church to the polemic around refugee resettlement in the United States
The Most Rev. Joseph W. Tobin, CSs.R.
Archbishop of Indianapolis
Including a conversation with Ebrahim Moosa,
Professor of Islamic Studies, Keough School of Global Affairs
Friday October 14
12:30 p.m.
Hesburgh Center Auditorium
Lunch to be served following the event
co-sponsored by The Center for Social Concerns