Preview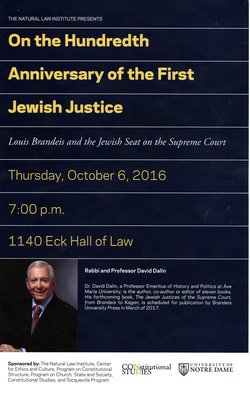 Description
The Natural Law Institute Presents:
On the Hundredth Anniversary of the First Jewish Justice
Louis Brandeis and the Jewish Seat on the Supreme Court
Thursday, October 6, 2016
7:00 p.m.
1140 Eck Hall of Law
Rabbi and Professor David Dalin
Dr. David Dalin, a Professor Emeritus of History and Politics at Ave Maria University, is the author, co-author or editor of eleven books. His forthcoming book, The Jewish Justices of the Supreme Court, from Brandeis to Kagan, is scheduled for publication by Brandeis University Press in March of 2017.
Sponsored by: The Natural Law Institute, Center for Ethics and Culture, Program on Constitutional Structure, Program on Church, State, and Society, Constitutional Studies, and Tocqueville Program.
CoNstitutional StuDies
University of Notre Dame