Preview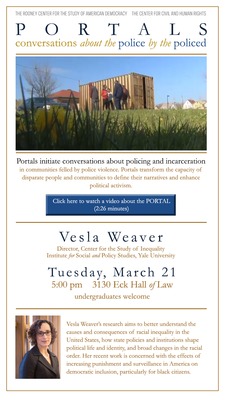 Description
Portals initiate conversations about policing and incarceration in communities felled by police violence. Portals transform the capacity of disparate people and communities to define their narratives and enhance political activism.
Tuesday, March 21, 2017, 5:00 p.m.---3130 Eck Hall of Law
About the Speaker:
Vesla Weaver is the director of the Center for the Study of Inequality, Institute for Social and Policy Studies at Yale University. Her research aims to better understand the causes and consequences of racial inequality in the United States, how state policies and institutions shape political life and identity, and broad changes in the racial order. Her recent work is concerned with the effects of increasing punishment and surveillance in America on democratic inclusion, particularly for black citizens.