Preview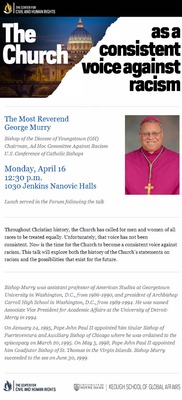 Description
The Church as A Consistent Voice Against Racism
The Most Reverend
George Murry
Bishop of the Diocese of Youngstown (OH)
Chairman, Ad Hoc Committee Against Racism
U.S. Conference of Catholic Bishops
Monday, April 16
12:30 p.m.
1030 Jenkins Nanovic Halls
Lunch served in the Forum following the talk
Throughout Christian history, the Church has called for men and women of all races to be treated equally. Unfortunately, that voice has not been consistent. Now is the time for the Church to become a consistent voice against racism. This talk will explore both the history of the Church's statements on racism and the possibilities that exist for the future.
Bishop Murry was assistant professor of American Studies at Georgetown University in Washington, D.C.,from 1986-1990, and president of Archbishop Carroll High School in Washington, D.C.,from 1989-1994. He was named Associate Vice President for Academic Affairs at the University of Detroit­-Mercy in 1994.
On January 24, 1995, Pope John Paul II appointed him titular Bishop of Puerteventura and Auxiliary Bishop of Chicago where he was ordained to the episcopacy on March 20, 1995. On May 5, 1998, Pope John Paul II appointed him Coadjutor Bishop of St. Thomas in the Virgin Islands. Bishop Murry succeeded to the see on June 30, 1999.