Title
Preview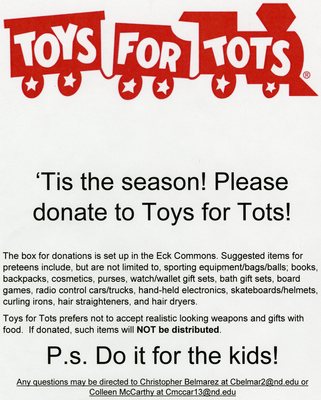 Description
Toys for Tots
'Tis the season! Please donate to Toys for Tots!
The box for donations is set up in the Eck Commons. Suggested items for preteens include, but are not limited to, sporting equipment/bags/balls' books, backpacks, cosmetics, purses, watch/wallet gift sets, bath gift sets, board games, radio control cars/trucks, hand -held electronics, skateboards/helmets, curling irons, hair straighteners, and hair dryers.
Toys for Tots prefers not to accept realistic looking weapons and gifts with food. If donated, such items will NOT be distributed.
P.S. Do it for the kids!
Any questions may be directed to Christopher Belmarez at Cbelmar2@nd.edu or Colleen McCarthy at Mccar13@nd.edu