Preview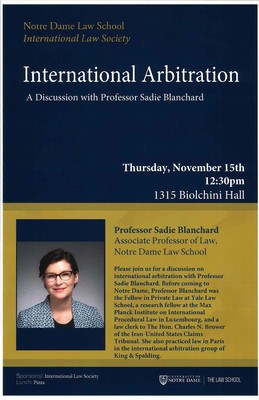 Description
Notre Dame Law School International Law Society
International Arbitration
A discussion with Professor Sadie Blanchard
Thursday, November 15th
12:30 pm
1315 Biolchini Hall
Professor Sadie Blanchard
Associate Professor of Law,
Notre Dame Law School
Please join us for a discussion on international arbitration with Professor Sadie Blanchard. Before coming to Notre Dame, Professor Blanchard was the Fellow in Private Law at Yale Law School, a research fellow at the Max Planck Institute on International Procedural Law in Luxembourg, and a law clerk The Hon. Charles N. Brower of the Iran-United States Claims Tribunal. She also practiced law in Paris in the international arbitration group of King & Spalding.
Sponsors: International Law Society
Lunch: Pizza