Preview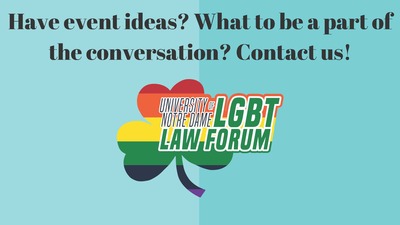 Description
University of Notre Dame LGBT Law Forum
Have event ideas? What to be a part of the conversation? Contact us!
November is Transgender awareness month.
29 Transgender Individuals were murdered in 2018 alone.
One in five transgender individuals have experienced homelessness.
Over half of trans youth have been physically attacked and three out of four have been verbally attacked.
One in four trans people have experienced workplace discrimination.
More than half o trans adults have been turned away by their healthcare providers.
The LGBT Law Forum would like to invite you to our event, Transformative Legal Topics, a panel on legal issues impacting the transgender community and transgender legal practitioners. The event will take place on November 13th from 12:30PM to 1:30PM in Eck 1140. Panera Lunches and cupcakes will be served.