Title
Preview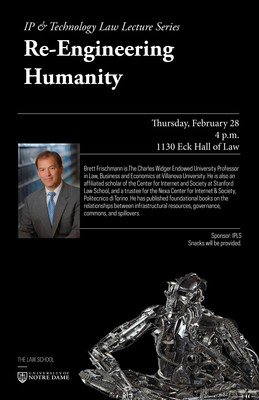 Description
IP & Technology Law Lecture Series
Re-Engineering Humanity
Thursday, February 28
4 p.m.
1130 Eck Hall of Law
Brett Frischmann is the Charles Widger Endowed University Professor in Law, Business and Economics at Villanova University. He is also an affiliated scholar of the Center for Internet and Society at Stanford Law School, and a trustee for the Nexa Center for Internet & Society, Politecnico di Torino. He has published foundational books on the relationships between infrastructural resources, governance, commons, and spillovers.
Sponsor: IPLS
Snacks will be provided.
The Law School
The University of Notre Dame