Preview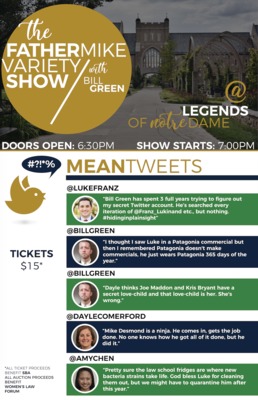 Description
The Father Mike Variety Show/ with Bill Green @ Legends of Notre Dame
Doors Open: 6:30PM
Show Starts: 7:00 PM
Mean Tweets
@LukeFranz "Bill Green has spent 3 full years trying to figure out my secret twitter account. He's searched every iteration of @Franz_Lukinand etc., but nothing. #hidinginplainsight
@BillGreen "I thought I saw Luke in a Patagonia commerical but then I remembered Patagonia doesn't make commercials, he just wears Patagonia 365 days of the year."
@BillGreen "Dayle thinks Joe Maddon and Kris Bryant have a secret love-child and that love-child is her. She's wrong."
@DayleComerford "Mike Desmond is a ninja. He comes in, gets the job done. No one knows how he got all of it done, but he did it."
@AmyChen "Pretty sure the law school fridges are where new bacteria strains take life. God bless Luke for cleaning them out, but he might have to quarantine him this year."
Tickets $15
*All ticket proceeds benefit SBA all auction proceeds benefit Women's Law Forum