Preview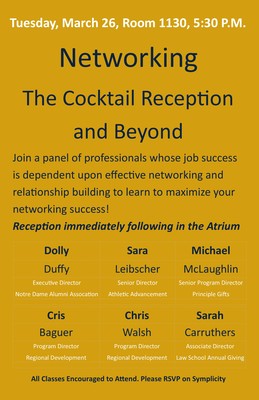 Description
Tuesday, March 26, Room 1130, 5:30 P.M.
Networking
The Cocktail Reception and Beyond
Join a panel of professionals whose job success is dependent upon effective networking and relationship building to learn to maximize your networking success!
Reception immediately following in the Atrium
Dolly Duffy, Executive Director, Notre Dame Alumni Association
Sara Leibscher, Senior Director, Athletic Advancement
Michael McLaughlin, Senior Program Director, Principle Gifts
Cris Baguer, Program Director, Regional Development
Chris Walsh, Program Director, Regional Development
Sarah Carruthers, Associate Director, Law School Annual Giving
All Classes Encouraged to Attend. Please RSVP on Symplicity.