Preview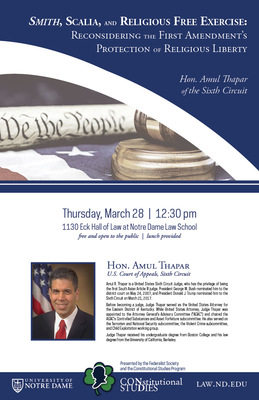 Description
Smith, Scalia, and Religious Free Exercise:
Reconsidering the First Amendment's Protection of Religious Liberty
Hon. Amul Thapar of the Sixth Circuit
Thursday, March 28 12:30pm
1130 Eck Hall of Law at Notre Dame Law School
free and open to the public/ lunch provided
Hon. Amul Thapar
U.S. Court of Appeals, Sixth Circuit
Amul R. Thapar is a United States Sixth Circuit Judge who has the privilege of being the first South Asian Article III judge. President George W. Bush nominated him to the district court on May 24, 2007, and President Donald J. Trump nominated him to the Sixth Circuit on March 21, 2017.
Before becoming a judge, Judge Thapar served as the United States Attorney for the Eastern District of Kentucky. While United States Attorney, Judge Thapar was appointed to the Attorney General's Advisory Committee ("AGAC") and chaired the AGAC's Controlled Substances and Asset Forfeiture subcommittee. He also served on the Terrorism and National Security subcommittee, the Violent Crime subcomittee, and Child Exploitation working group.
Judge Thapar received his undergraduate degree from Boston COllege and his law degree from the University of California, Berkeley.
Presented by the Federalist Society and the Constitutional Studies Program
University of Notre Dame
Constitutional Studies
Law. ND.edu