Title
Preview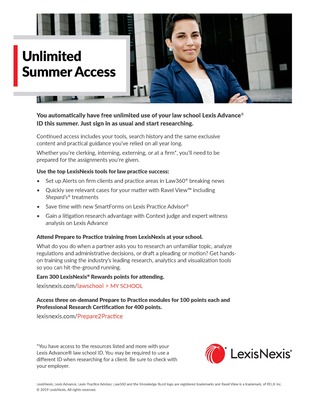 Description
Unlimited Summer Access
You automatically have free unlimited use of your law school Lexis Advance® ID this summer. Just sign in as usual and start researching. Continued access includes your tools, search history and the same exclusive content and practical guidance you've relied on all year long. Whether you're clerking, interning, externing, or at a firm*, you'll need to be prepared for the assignments you're given. Use the top LexisNexis tools for law practice success:
• Set up Alerts on firm clients and practice areas in Law360® breaking news • Quickly see relevant cases for your matter with Ravel View™ including Shepard's® treatments • Save time with new SmartForms on Lexis Practice Advisor® • Gain a litigation research advantage with Context judge and expert witness analysis on Lexis Advance
Attend Prepare to Practice training from LexisNexis at your school. What do you do when a partner asks you to research an unfamiliar topic, analyze regulations and administrative decisions, or draft a pleading or motion? Get hands-on training using the industry's leading research, analytics and visualization tools so you can hit-the-ground running. Earn 300 LexisNexis® Rewards points for attending. lexisnexis.com/lawschool > MY SCHOOL Access three on-demand Prepare to Practice modules for 100 points each and Professional Research Certification for 400 points. lexisnexis.com/Prepare2Practice
*You have access to the resources listed and more with your Lexis Advance® law school ID. You may be required to use a different ID when researching for a client. Be sure to check with your employer.
LexisNexis, Lexis Advance, Lexis Practice Advisor, Law360 and the Knowledge Burst logo are registered trademarks and Ravel View is a trademark, of RELX Inc. © 2019 LexisNexis. All rights reserved.