Preview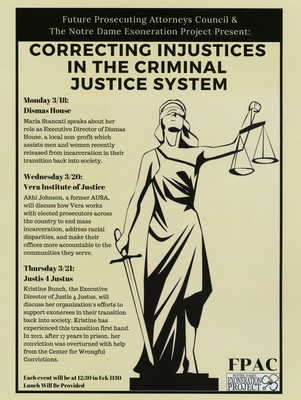 Description
Future Prosecuting Attorneys Council & The Notre Dame Exoneration Project Present:
Correcting Injustices in the Criminal Justice System
Monday 3/18
maria Stancati speaks about her role as Executive Director of Dismas House, a local non-profit which assists men and women recently released from incarceration in their transition back into society.
Wednesday 3/20
Vera Institute of Justice
Akhi Johnson, a former AUSA, will discuss how Vera works with elected prosecutors across the country to end mass incarceration, address racial disparities, and make their offices more accountable to the communities they serve.
Thursday 3/21
Justis 4 Justus Kristine Bunch, the Executive Director of Justis 4 Justus, will discuss her organization's efforts to support exonerees in their transition back into society. Kristine has experienced this transition first hand. In 2012, after 17 years in prision, her conviction was overturned with help from the Center for Wrongful Convictions. Each event will be at 12:30 in Eck 1130. Lunch will be provided.
FPAC
Notre Dame Exoneration Project