Preview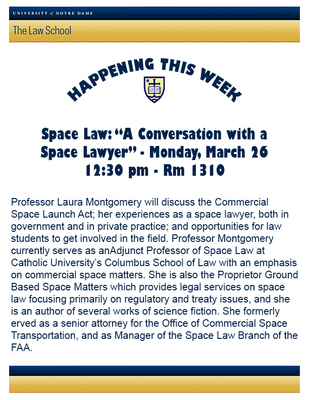 Description
Monday, March 26 at 12:30 p.m. in Room 1310, Professor Laura Montgomery will discuss the Commercial Space Launch Act.
Her experiences as a space lawyer is both in government and in private practice.
Professor Montgomery currently serves as an Adjunct Professor of Space Law at Catholic University's Columbus School of Law with an emphasis on commercial space matters. She is also the Proprietor Ground Based Space Matters which provides legal services on space law focusing primarily on regulatory and treaty issues, and she is an author of several works of science fiction. She formerly served as a senior attorney for the Office of Commercial Space Transportation, and as Manager of the Space Law Branch of the FAA.