Preview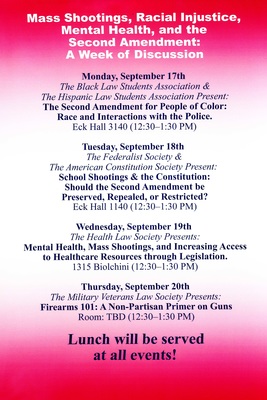 Description
Monday, September 17, 2018, Eck Hall 3140 (12:30-1 :30 PM)
The Black Law Students Association & The Hispanic Law Students Association Present: The Second Amendment for People of Color: Race and Interactions with the Police.
Tuesday, September 18, 2018, Eck Hall 1140 (12:30-1 :30 PM)
The Federalist Society & The American Constitution Society Present: School Shootings & the Constitution: Should the Second Amendment be Preserved, Repealed, or Restricted?
Wednesday, September 19, 2018, Biolchini 1315 (12:30- 1:30 PM)
Health Law Society Presents: Mental Health, Mass Shootings, and Increasing Access to Healthcare Resources through Legislation.
Thursday, September 20, 2018, Room: TBD (12:30-1 :30 PM)
The Military Veterans Law Society Presents: Firearms 101: A Non-Partisan Primer on Guns