Title
Preview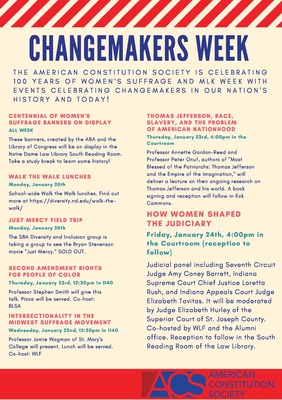 Description
The American Constitution Society is celebrating 100 years of Women's Suffrage and Martin Luther King, Jr., Week with events celebrating change-makers in our nation's history and today!
All Week
Centennial of Women's Suffrage Banners on Display
These banners, created by the ABA and the Library of Congress will be on display in the Notre Dame Law Library South Reading Room. Take a study break to learn some history!
Monday, January 20
Walk the Walk Lunches
School-wide Walk the Walk lunches. Find out more at https://diversity.nd.edu/walk-the- walk/
Monday, January 20
Just Mercy Field Trip
The SBA Diversity and Inclusion group is taking a group to see the Bryan Stevenson movie "Just Mercy." SOLD OUT.
Wednesday, January 22, 12:30 p.m., 1140 Eck Hall of Law
Intersectionality in the Midwest Suffrage Movement
Professor Jamie Wagman of St. Mary's College will present. Lunch will be served. Co-host: WLF
Thursday, January 23, 12:30 p.m., 1140 Eck Hall of Law
Second Amendment Rights for People of Color
Professor Stephen Smith will give this talk. Pizza will be served. Co-host: BLSA
Thursday, January 23, 4:00 p.m., McCartan Courtroom
Thomas Jefferson, Race, Slavery, and the Problem of American Nationhood
Professor Annette Gordon-Reed and Professor Peter Onuf, authors of "Most Blessed of the Patriarchs: Thomas Jefferson and the Empire of the Imagination," will deliver a lecture on their ongoing research on Thomas Jefferson and his world. A book signing and reception will follow in Eck Commons.
Friday, January 24, 4:00 p.m., McCartan Courtroom
followed by a reception in the Kresge Law Library South Reading Room
How Women Shaped the Judiciary
Judicial panel including Seventh Circuit Judge Amy Coney Barrett, Indiana Supreme Court Chief Justice Loretta Rush, and Indiana Appeals Court Judge Elizabeth Tavitas. It will be moderated by Judge Elizabeth Hurley of the Superior Court of St. Joseph County. Co-hosted by WLF and the Alumni office. Reception to follow in the South Reading Room of the Law Library.