Preview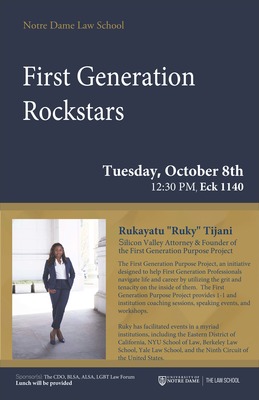 Description
Tuesday, October 8, 2019, 12:30-1:30 p.m., 1140 Eck Hall of Law
The Black Law Students Association welcomes Ruky Tijani to speak about her path to working in a large law firm, especially as a woman of color, and how to navigate the legal landscape.
Rukayatu "Ruky" Tijani
Silicon Valley Attorney & Founder of the First Generation Purpose Project
The First Generation Purpose Project, an initiative designed to help First Generation Professionals navigate life and career by utilizing the grit and tenacity on the inside of them. The First Generation Purpose Project provides 1-1 and institution coaching sessions, speaking events, and workshops. Ruky has facilitated events in a myriad institutions, including the Eastern District of California, NYU School of Law, Berkeley Law School, Yale Law School, and the Ninth Circuit of the United States.