Preview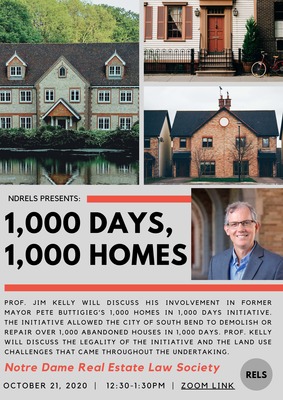 Description
Notre Dame Real Estate Law Society Presents:
1,000 Days, 1,000 Homes
Professor Jim Kelly will discuss his involvement in former Mayor Pete Buttigieg's 1,000 Homes in 1,000 Days Initiative. The initiative allowed the City of South Bend to demolish or repair over 1,000 abandoned houses in 1,000 days. Professor Kelly will discuss the legality of the initiative and the land use challenges that came throughout the undertaking.
October 21, 2020, 12:30-1:30 p.m. via Zoom