Preview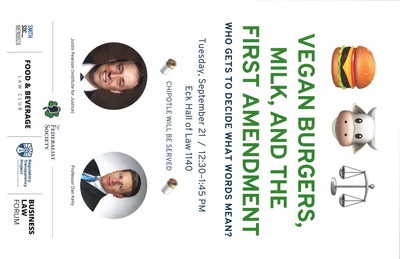 Description
Tuesday, September 21 at 12:30 pm in Eck Hall of Law 1140 "Vegan Burgers, Milk, and the First Amendment: Who gets to decide what words mean?" Join us for a conversation featuring Justin Pearson of the Institute for Justice and NDLS Professor Dan Kelly.
Justin Pearson is a Managing Attorney at the Institute for Justice in Florida. Mr. Pearson was the lead attorney in Chicago vegan food company Upton's Naturals' challenge to Mississippi's ban on terms like 'veggie burgers,' which led Mississippi to completely reverse its position. Prior to that case, Mr. Pearson was the lead attorney in the first victorious First Amendment challenge against a food standard of identity in U.S. history. In this talk, Mr. Pearson will address the national push by giant trade associations to ban terms like 'almond milk' and 'veggie burgers.' He will apply the lessons learned from his victories to show why, in his view, these restrictions violate the First Amendment.
Professor Dan Kelly teaches and writes in the areas of property law, real estate, remedies, and wills, trusts, and estates. Kelly has taught as a professor at Notre Dame since 2009, and he has been a Visiting Professor of Law at the University of Chicago Law School and the Louis D. Brandeis Visiting Professor of Law at Harvard Law School. He currently serves as the director of the University of Notre Dame's Fitzgerald Institute for Real Estate and director of the Law School's Program on Law & Economics.