Preview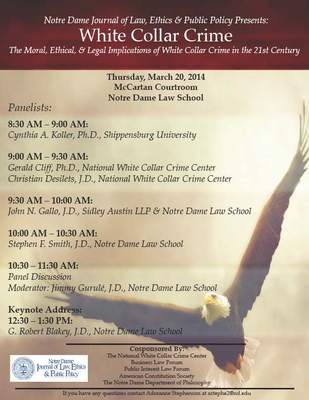 Description
Symposium on White-Collar Crime: The Moral, Ethical, & Legal Implications in the 21st Century
The Notre Dame Journal of Law, Ethics & Public Policy explores the legal, ethical, and policy considerations of various topics within the Judeo-Christian intellectual and moral tradition. It has a national audience of people actively involved in the formulation of public policy, and regularly includes timely pieces from a broad spectrum of prominent scholars and officials. This year's Symposium evaluates white-collar crime and its many facets.
As an Assistant Professor of Criminal Justice at Shippensburg University, Dr. Cynthia Koller serves as the Criminal Justice Department's coordinator of the Pennsylvania Juvenile Court Judges' Commission Graduate Education Program. In her article, Dr. Koller applies criminology theory to the recent mortgage crisis and to white collar crime generally. She ultimately concludes that corporate culture and ethics compliance can be used to help prevent further violations.
Dr. Gerald Cliff, the R e s e a r c h Director at the National White Collar Crime Center (NW3C), served 31 years with the Detroit, Michigan Police Department. During his time with the police department, he was in charge of Special Investigations, which included cyber crimes and financial crimes. Dr. Cliff will be joined by his co-author Christian Desilets, a Research Attorney with the NW3C. Mr. Desilets performs legal research relating to the fields of white collar, cyber and financial crime. Additionally, he helps create training for state and local law enforcement. Dr. Cliff and Mr. Desilets have written about the history of white-collar crime and new ways in which criminals may be taking advantage of victims in the near future
Professor G. Robert Blakey is the nation's foremost authority on the Racketeer Influenced and Corrupt Organization Act (RICO). As a Double Domer and loyal to his alma mater, he served on the Notre Dame Law School faculty for more than 30 years teaching various subjects including criminal law and procedure, terrorism, and jurisprudence. Professor Blakey addresses judicial interpretation of the Private Securities Litigation Reform Act of 1995, which was created to eliminate overlap between securities regulation and RICO. He argues that this legislation actually created an unintended gap in securities statutes and RICO where fraud victims do not have a potential remedy.
John Gallo is a partner at Sidley Austin LLP and Global Co -Chair of the firm's White Collar Practice Group. Since 2002, Gallo has also served as an adjunct professor at Notre Dame Law School teaching Federal Criminal Practice. His article for the Journal focuses on the various components of corporate criminal liability and how corporations effectively do not have the right to a meaningful defense at trial. He further discusses possible ways that the system can be reformed.
Professor Stephen Smith, a Professor at Notre Dame Law School, teaches criminal law, criminal adjudication, and federal criminal law. Professor Smith earned his Juris Doctor from the University of Virginia. After graduating law school, he served as a clerk for Justice Clarence Thomas of the Supreme Court of the United States. Professor Smith will discuss the many nuances of white-collar crime and the challenges our nation may face with quickly developing technological advances.