Preview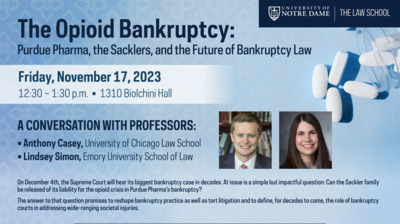 Description
A Conversation with Professors:
Anthony Casey, University of Chicago Law School
Lindsey Simon, Emory University School of Law
On December 4th, the Supreme Court will hear its biggest bankruptcy case in decades. At issue is a simple but impactful question: Can the Sackler family be released of its liability for the opioid crisis in Purdue Pharma's bankruptcy?
The answer to that question promises to reshape bankruptcy practice as well as tort litigation and to define, for decades to come, the role of bankruptcy courts in addressing wide-ranging societal injuries.