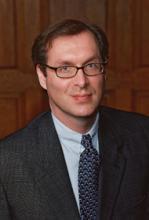 Thomas Mills joined Notre Dame Law School in July 2017 as librarian and director of the Kresge Law Library.
Previously, Mills was the director for Collections & Faculty Services and a lecturer in law at Cornell University.
Mills completed his undergraduate degree at Northwestern University and a master's degree in international affairs and finance at Columbia University. He earned his J.D. magna cum laude from the University of Illinois College of Law. He also earned two other master's degrees—one in education and one in library and information science—from the University of Illinois.