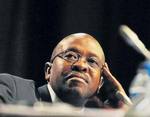 Title
Mbuyiseli Madlanga, L.L.M. '90, Justice of the Constitutional Court of South Africa and the Judge James J. Clynes, Jr. Visiting Chair in the Ethics
Description
Clynes Lecture Judging According to Personal Attributes: Tension with the Oath of Office?
Thursday, April 14 I 5:30 P.M. I 1130 Eck Hall of Law I Reception To Follow
Mbuyiseli Madlanga, L.L.M. '90 a Justice of the Constitutional Court of South Africa and the Judge James J. Clynes, Jr. Visiting Chair in the Ethics of Litigation within the Judicial Process, will deliver the Clynes Chair Lecture at Notre Dame Law School.
Notre Dame Human Rights Law Graduate Appointed to South African Constitutional Court
Publication Date
4-14-2016
Recommended Citation
Notre Dame Law School, "Mbuyiseli Madlanga, L.L.M. '90, Justice of the Constitutional Court of South Africa and the Judge James J. Clynes, Jr. Visiting Chair in the Ethics" (2016). Clynes Chair Speakers. 3.
https://scholarship.law.nd.edu/clynes_speakers/3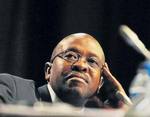 COinS