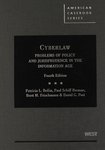 Title
Cyberlaw: Problems of Policy and Jurisprudence in the Information Age. 4th Edition.
Description
This law school casebook starts from the premise that cyberlaw is not simply a set of legal rules governing online interaction, but a lens through which to re-examine general problems of policy, jurisprudence, and culture. The book goes beyond simply plugging Internet-related cases into a series of doctrinal categories, instead emphasizing conceptual issues that extend across the spectrum of cyberspace legal dilemmas. While the book addresses all of the "traditional" subject matter areas of cyberlaw, it asks readers to consider both how traditional legal doctrines can be applied to cyberspace conduct, and how the special problems encountered in the course of that application can teach us something about those traditional legal doctrines.
The fourth edition, which includes contributions of new co-author Brett Frischmann, has been reorganized to clarify the themes of the book and updated to illuminate new debates at the heart of this evolving field. This edition groups the material into units addressing the who, how, and what of governance/regulation—fundamental questions that pertain to any legal system, in cyberspace or elsewhere. The fourth edition includes unit-ending case studies on governance of the domain name system, efforts to control the exchange of counterfeit goods in the online marketplace, and the Google Books Settlement, as well as updated treatment of a number of topics, including peer-to-peer file sharing, online behavioral advertising, regulation of sexually explicit speech, and ownership of user-generated content.
Keywords
cyberlaw, technology, computer networks
Disciplines
Law | Science and Technology Law
Recommended Citation
Bellia, Patricia L.; Schiff Berman, Paul; Frischmann, Brett; and Post, David, "Cyberlaw: Problems of Policy and Jurisprudence in the Information Age. 4th Edition." (2011). Books. 10.
https://scholarship.law.nd.edu/law_books/10