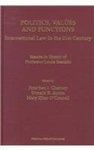 Title
Politics, Values and Functions: International Law in the 21st Century: Essays in Honor of Professor Louis Henkin
Description
The editors and contributors have formed this collection to honour Louis Henkin in his 80th year. He has contributed greatly to the fields of international and constitutional law, to teaching and scholarship, to the international community and to each of the contributors and editors personally. The work sets out to highlight the impact of Henkin's contribution to international and constitutional scholarship.
Publisher
Martinus Nijhoff Publishers
City
Hague, Netherlands / Boston, Mass.
Keywords
international law
Disciplines
International Law | Law
Recommended Citation
O'Connell, Mary Ellen; Charney, Jonathan I.; and Anton, Donald K., "Politics, Values and Functions: International Law in the 21st Century: Essays in Honor of Professor Louis Henkin" (1997). Books. 123.
https://scholarship.law.nd.edu/law_books/123