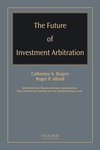 Title
The Future of Investment Arbitration
Description
Investment arbitration is at the cutting edge of international law and dispute resolution, and is predicted to be a major factor in the development of the global economic system in years to come. This one-volume monograph contains contributions from leading experts on a wide range of topics of both theoretical importance and practical implication that will affect the future of investment arbitration. The highly innovative chapters combine to form a constructive and valuable discussion for all in the arbitration field. The contributors, chosen to represent the full spectrum of perspectives, are leading arbitration experts from all over the world, including ICSID insiders, US government officials, UNCTAD research personnel, seasoned investment arbitrators and counsel, and renowned legal scholars.
The book is divided into three themes, with the first centering on the adequacy of UNCITRAL and ICSID arbitration rules, with particular attention to recent and proposed changes. The second theme focuses on the future of bilateral investment treaties, discussing trends in the interpretation of treaty provisions and the debate concerning the efficacy of the treaties in benefiting developing countries. The third theme revolves around the public function of investment arbitration decisions, including the use of arbitration to resolve disputes between sovereigns and the arbitrators' role as a guardian of international public policy.
The Future of Investment Arbitration is unique in its outstanding range of topics and the expertise of the contributors. It previews and guides future directions in the field, as well as discussing the larger policy implications of specific rules. It includes cutting-edge analysis of empirical research regarding BITS that is essential to evaluating many assumptions about investment law and arbitration. Finally, the book takes a broad perspective, examining the rules discussed within the larger structural context of investment arbitration, and drawing investment arbitration into the wider setting of international law and corporate governance.
Publisher
Oxford University Press
Keywords
investment, foreign investment, arbitration
Disciplines
International Law | International Trade Law | Law
Recommended Citation
Alford, Roger P. and Rogers, Catherine, "The Future of Investment Arbitration" (2009). Books. 15.
https://scholarship.law.nd.edu/law_books/15