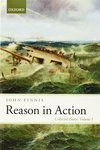 Title
Collected Essays, v. IV: Philosophy of Law
Description
For over forty years John Finnis has pioneered the development of a new classical theory of natural law, a systematic philosophical explanation of human life that offers an integrated account of personal identity, practical reason, morality, political community, and law. The core of Finnis' theory, articulated in his seminal work Natural Law and Natural Rights, has profoundly influenced later work in the philosophy of law and practical reason, while his contributions to the ethical debates surrounding nuclear deterrence, abortion, and sexual morality have been a powerful, and controversial exposition of the practical implications of his theory of natural law.

The Collected Essays of John Finnis brings together 122 papers. Thematically arranged, the five volumes provide ready access to his contributions across central areas of modern practical philosophy - the philosophy of practical reason; the philosophy of personal identity and intention; political philosophy; the philosophy of law; and the philosophy of revelation and the role of religion in public life. Fully cross-referenced, cross-indexed, and introduced by the author, the Collected Essays reveal the connections and coherence of the different branches of Finnis' work, showing the full picture of his philosophical contribution for the first time.

Covering topics from the nature of divine revelation, the morality of abortion, to the adoption of Bills of Rights, the work in these volumes offer a unique insight into the intellectual currents and political debates that have transformed major areas of public morality and law over the last half century. Together with the new edition of Natural Law and Natural Rights, they will be an essential resource for all those engaged with the philosophy of law and broader questions in practical philosophy.
Publisher
Oxford University Press
City
Oxford [England] ; New York [NY]
Keywords
law, religion and law
Disciplines
Law | Religion Law
Recommended Citation
Finnis, John M., "Collected Essays, v. IV: Philosophy of Law" (2011). Books. 153.
https://scholarship.law.nd.edu/law_books/153